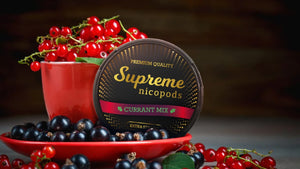 NICOTINE POUCHES
Nicopods UK are a UK retailer of nicotine products.
Nicopods are smokeless, less harmful new and modern way of using nicotine. Nicopods do NOT contain any tobacco or tar which eliminates the risk of staining your teeth and emits carbon monoxide. It's an easy way to quit smoking and a good alternative to cigarettes or vaping as you can use them anytime and anywhere with no restrictions. 
The ingredients in our nicotine pouches are built with high quality natural fibres, fresh flavours and nicotine. You simply place the pouch under your upper lip, this allows the fresh flavours and nicotine to be absorbed through the gums.
We offer UK Next Day Delivery throughout the UK with our courier DPD, this is a fully tracked service that guarantee delivery by 10:30AM. You can change the delivery date, arrange to leave your parcel somewhere safe at the delivery address, deliver it to your neighbour, drop it off at your local shop, or go to your local depot to pick it up, giving you even more options and peace of mind that you will not miss your delivery.

DPD's international shipping reliably gets your parcels to their destination within Europe and throughout the world as lightening speed.

You can discover more about us on our website or Get in touch today via our snapchat: @snusnicopodsuk or via our 'Contact Us' page
SIBERIA
Siberia 80ºc X-Tremley Red, better known as Siberia Red.
Made by GN Tobacco, they are known for making some of the strongest chewing tobacco available on the market! The go-to chewing tobacco for users all over the world who want something extremely powerful and refreshing.

Siberia is the powerful chewing tobacco blend providing a prolonged strong mint/spearmint release, balanced with the perfect level of moisture in their white dry bags, you are ensured to get that kick.
Take one pod and put it under the upper lip against the gum. After a few moments you will feel a tingling sensation, this means the nicotine and flavour is absorbing. How long the flavour lasts varies between brands, but usually 30-60 minutes. Once finished it is recommended to throw the pouch away however some customers place back into the top section of the tub to reuse later.
DONT MISS OUT
Subscribe to our newsletter and get updates about all the new product, competitions and sale items.