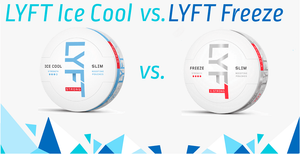 Lyft Ice Cool Strong and Lyft Freeze X-Strong
Lyft Ice Cool Strong and Lyft Freeze X-Strong are made by BAT and are wonderful nicotine bag products in the Lyft line with a very pleasant mint flavor and wonderful nicotine kick. 
In Lyft Ice Cool nicotine bags, these are products that contain nicotine but not tobacco, but are made up of eucalyptus and pine fibers in the Lyft series. Lyft is a nicotine bag brand from BAT, or Fiedler & Lundgren, which has been part of BAT since 2008. The experience is still the same – how the taste is released, the nicotine release, how it feels under the lip, up to the appearance of the can – but it's completely tobacco-free! The flavour description for Lyft Ice Cool Mint states that it has a "refreshing and crispy peppermint flavor with elements of sweetness and some herbal notes."
When you open the can, you will notice that they smell spicy, fresh and mildly sweet of peppermint! The nicotine bags look and feel like normal snus under the upper lip. They are slim ("slim") and also soft! As a mint product, this product also has a pleasant cooling feeling when you place a pouch under your upper lip. The taste consists mainly of peppermint; it comes through in a very present way with a slight sweetness - a very refreshing taste. The nicotine feels the same as normal snus, and even at a relatively strong level. So expect a nice kick with these nicotine bags! Furthermore, the taste lasted quite a long time; on average, I was able to keep a sachet in my mouth up to the 45-55 minute mark! Lyft Ice Cool Strong Snus is a great way to enjoy nicotine without tobacco.
In Lyft Freeze X-Strong nicotine bags, the taste is described as "intense peppermint and icy menthol." In each can you will find 24 servings, each weighing 0.7 grams. The nicotine content is 16 mg / g. However, do not be fooled by this stated nicotine strength, in fact you get a really decent kick with Lyft Freeze!
When you open the can, the aroma is a refreshing, icy peppermint smell with only a slight hint of sweetness! The portions are slim, so they fit well under the upper lip. As a mint product, you also get that beautiful, fresh feeling in your upper lip! The portion material is also silky smooth and super comfortable. The taste is a refreshing, crispy, mildly sweet peppermint taste. The nicotine surprised me - for only 16 mg / g, the nicotine effect is felt quite quickly and feels quite strong. I find that these portions last quite a long time, usually up to an hour!
---